BLISTER FREE Film is specially designed for applications on Polycarbonate and Plexiglass.
Madico's Blister Free Film for Polycarbonate is designed with the same technological innovation, with identical features and performance, of Madico Window Film. The only difference consists of a different type of adhesive, specifically designed for plastic surface.

This  Solar Control  film,  offering a high energy savings (with consequent reduction of CO2 emissions) and ensure protection and comfort in any type of application.
Why Madico Windows Films?
Madico films has a thickness of 75  microns compared of 38 microns of standard film, and is formed with 2 layers of special scratchproof protection, designed with the collaboration of General Electric Company. Due to the thickness of 75micron Madico film can be installed more easily because the strength of their structure makes installation easier and better, avoiding folds or ripples.
This ensures high quality of installation, no scratches, and greater durability.
Blister free maintain  transparency and the performance  to reflect solar energy even after 800 hours of  Xenon radiation (in a"Weatherometer Atlas") while standard products lose their efficiency almost immediately.
The best performance of Madico Window Film can be verified in the graphs below: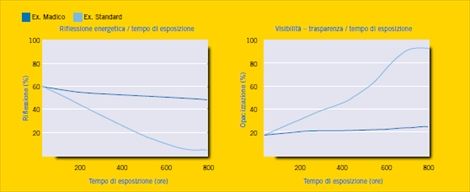 In the two illustrations below, you can see the difference of the composition and the thickness between Madico Window Film and other Window Film of leading manufacturer: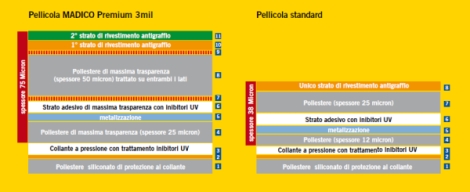 Blister Free is covered with 5 year warranty, provided by manufacturer (on vertical surfaces).
Lends itself to various different applications. 
Here then summarized the strengths of Madico Window Film:
Five-year warranty (from manufacturer)
75 microns  Thickness
Double-layer anti-scratch protection
High quality installation
Great abrasion resistance
Easy cleaning
You can permanently resolve all problems due to solar radiation, obtaining the following advantages: 
More comfortable environment
Uniformity of temperature within the environment
Lower air conditioning costs
Better performance of air-conditioning
Significant glare reduction
P

rojects