Madico Window Films 

Madico Inc. is an American company, world leader in Solar Control and Safety Window Films. Madico's external solar control window film are unique on the market, are able to offer a high energy saving, with a consequent reduction of CO2 emissions and ensure the protection and comfort in any type of application, for commercial and residential buildings.
Madico Inc. has been developing innovative materials since 1903. An unrivaled commitment to research and development has enabled the company to pioneer a number of industry-first products and processes for emerging safety and energy markets.

In 1987, Madico has become part of Lintec Corporation, a  Japanese Company leader worldwide in a number of product, not only in the production of window films.

Each Lintec product is designed, developed and manufactured within the group, and the same machinery used in production are also designed and produced in it. This synergy allows the Lintec production to meet the most diverse customer needs by offering the highest technological standards and quality, and ensuring constant innovation in the development of the products that produces.

Lintec has three research and development centers with 180 researchers, two in Japan and one in the United States. 
Weathering Ageing Testing
QUALITY ASSURANCE by Madico Window Films

As part of Madico's philosophy of continuous improvement, all of the Window film product were redesigned a few years ago to provide over 99% UV blockage.
At that same time, Madico began utilizing a new, proprietary, extremely stable, UV system to insure long-term protection and fade resistance.
Below is a graph showing Madico long-term UV protection versus accelerated aging.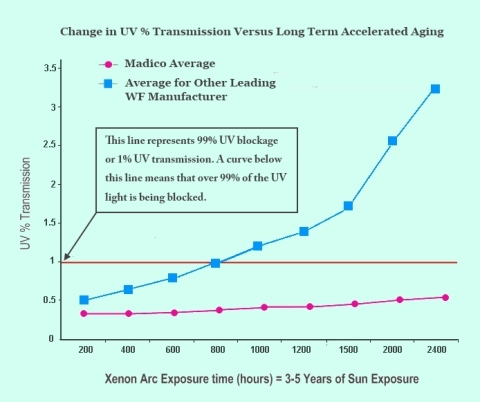 This graph shows that, even after 2400 hrs of exposure in a Xenon, accelerated aging test chamber, typical Madico Window Film are still rejecting over 99% of UV light radiation. And as these result show, Madico Window Film provide better protection than leading competitors.

Thanks to the quality, technology and performance of Madico products which are raised to the highest international standards, Tecnosolar is able to offer the best product available on the market.
All Madico Window films are developed and tested in order to get the best product existing in the global market of Window films.

Through a network of dealers that include the most qualified companies in the industry, Tecnosolar provides the most advanced solutions for solving all problems relating to glass surfaces, such as: Safety and Security, Privacy, Solar radiation and Glare.
Tecnosolar is associated EWFA - European Window Films Association.